It is no secret to anyone who has considered moving to Santa Monica that finding a place to live here is not cheap.

A person in 2013 looking to rent in Santa Monica – and about 70 percent of the 90,000 people who live in the seaside city are renters – could have expected to pay on average about $2,300 a month.

The 8.3-square-mile city, in fact, had the highest average rent last year in Los Angeles County, according to a report by USC's Lusk Center for Real Estate.
Santa Monica is an expensive place to live in. In fact, a recent Yahoo! Finance article named it the most expensive zip code in Los Angeles, with its year-over-year median sales price growth rising by 15 percent between June 2013 and June 2014.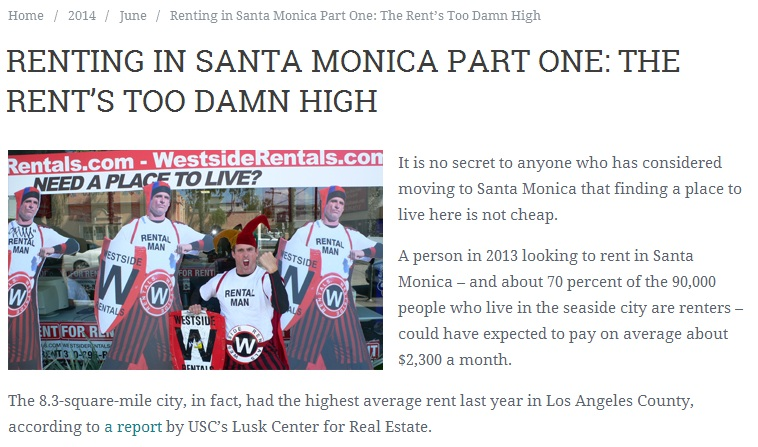 With the prices of homes on the upswing, anyone who plans to move into this beachfront city may be compelled to ask: should we buy a house or rent? The answer will depend on your specific situation and needs. To help you make a more informed decision, take a good look at these factors you need to examine first.
Financial factors
To ask yourself whether to buy or rent is to presuppose that you have the financial readiness to purchase a home in the first place. Issues to consider include your ability to make a down payment (generally 5%-20% of the home's purchase price) and pay closing costs (generally around 1%-3%). If your finances indicate that you can afford the fees, the next issue you have to address is to identify if the purchase will benefit you financially. Even if the cost of renting is lower than the cost of buying, you will need to take into considering long-term appreciation and tax benefits.
Emotional factors
Renting requires hefty payments for a property that will never be yours, and many homeowners find that hard to handle. Some renters, after years of staying in a property, get attached to the house and feel that it is home. Unfortunately, once the lease contract expires, that illusion of ownership would have ended as well.
Do the math
Website's of Santa Monica mortgage lenders like CNN Mortgage have Renting Vs. Buying Calculators that can help you evaluate the financial aspects of the rent-vs.-buy decision. Keep in mind that you need to consider a range of variables that include the number of years you plan to stay in the home. Real estate and mortgage experts recommend that you run the numbers as best you can, then ask yourself if the emotional benefits are worth the cost.
If you need more help, Santa Monica mortgage experts at CNN Mortgage offer free consultations.
(Source: RENTING IN SANTA MONICA PART ONE: THE RENT'S TOO DAMN HIGH, Santa Monica Next, Jun. 19, 2014)